Founded over one hundred and thirty years ago and continuously improved over succeeding generations. Most of the work creating these brushes is carried out by hand, using techniques pioneered and patented by the founder. Mason Pearson hairbrushes are never mass produced.
The unique rubber-cushion pad made by hand using Mason Pearson's original techniques, allows for effective and efficient brushing. It is kind to use and gently massages the scalp.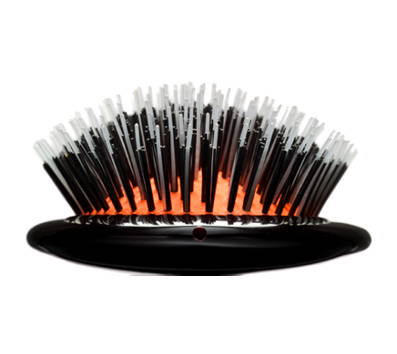 The Original Rubber Cushion Hairbrush
In 1885, Mason Pearson invented and patented the pneumatic cushion, which to this day is one of the main unique characteristics of the hairbrush. The hand-made, rubber-cushion pad lets the air flow in through a special hole and thus helps massage the scalp effectively.
Comfortable To Hold And Use
The hand-polished plastic handle makes the hairbrush comfortable to hold and use. The plastic handle shape was developed from the original wooden models, which are still made in small quantities. The plastic handles are hand-finished to remove any sharp edges to feel comfortable in the hand.